Members of the International Authors Forum will recall that in November 2016 we put on a side event at the World Intellectual Property Organization (WIPO) in Geneva introducing Public Lending Right (PLR) to the WIPO delegates with our partner Jim Parker, Co-ordinator of PLR International. The idea was to make them aware of this concept, which remains mainly a European phenomenon (forgive us Australia, Canada, Israel and New Zealand!) and encourage the delegates to start the conversation about PLR in their own countries.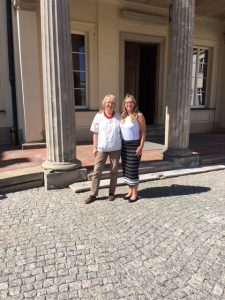 August 2017: IAF's Barbara Hayes with Barbara Jóźwiak from Copyright Polska on their visit with our partner PLR International (PLRi) Co-ordinator Jim Parker to the Ministry of Culture and National Heritage in Warsaw, where PLR was discussed with Karol Kościński, Attorney at Law at the Department of Intellectual Property and Media.
Over the last year we have been looking at ways of promoting PLR as widely as possible and have teamed up with the International Federation of Reproduction Rights Organisations (IFRRO), of which IAF is a member, to create a Steering Committee. IFRRO kindly changed their constitution so that each Collective Management Organisation (CMO) who administers PLR now pays additional fees to aid the work of the PLR International Steering Committee. The Committee consists of two members nominated by IAF, two members nominated by the European Writers' Council (EWC), two members nominated by publishers and two members nominated by IFRRO. The Committee membership for the next two years is:
International Authors Forum:
Barbara Hayes, Authors' Licensing and Collecting Society (ALCS) (Chair)
Carola Streul, European Visual Artists (EVA)
European Writers Council:
Trond Andreassen, The Norwegian Non-fiction Writers and Translators Association aka Norsk faglitterær forfatter-og oversetterforening (NFF)
Anne Salomaa, Sanasto, Finland
Publishers:
Anne Bergman, Federation of European Publishers
Jose Borghino, International Publishers Association
IFRRO:
Caroline Morgan (Vice Chair and Treasurer)
Christian Roblin, SOFIA
The Committee has so far met four times to identify our priorities and develop a work plan. Priorities include working towards full implementation of the Lending Right Directive across Europe, where four Member States still have no PLR system in place; seeking improvements in existing PLR systems in Member States which are poorly funded or dysfunctional; and supporting PLR campaigns outside of Europe in countries like Hong Kong. The Committee also helped develop the programme for the PLR International Conference, which was held in Paris from 25 – 27 September 2017. A separate update from the conference also appears below.
Relationship building
During the course of this year we have also met with the International Federation of Library Associations (IFLA) to discuss the principle of PLR payment coming from government (and not library) budgets.
We have also been talking with WIPO delegates to see if we can canvass support for PLR and payments to appear in their discussions. This may be something we ask you as our members to help with if we can progress this.
And we have met with the European Commission to discuss options available regarding fully implementing the Lending and Rental Directive which has still not been fully implemented across Europe. It is good to know that the Commission and PLR International have broadly the same agenda to achieve this, so we hope to help each other with our goals.
A report back from the 12th PLR International Conference, September 2017
The 12th Public Lending Right (PLR) International Conference was held in Paris on 25 – 27 September 2018, kindly hosted by IAF Member SOFIA, the organisation that administers PLR in France. Representatives from over 30 countries attended.
The PLR International Steering Committee (of which IAF's Barbara Hayes is Chair) had worked closely with our partner Jim Parker, Co-ordinator of PLR International, to shape the agenda, and we all felt that the discussions that ensued from the sessions this year helped to engage delegates.
Mr Martin Ajdari, Director General, Media and Cultural Industries from the French Ministry of Culture, applauded the holding of the conference, stating that the knowledge shared in libraries supports citizenship and civilisation. He noted that each PLR system was "unique but balanced". He was emphatic that funding for PLR was a burden on government NOT libraries and that governments should feel they are funding a public asset. He also saw the future as including e-lending and encouraged discussions around this.
Introducing the French PLR System
Christian Roblin, Director at SOFIA, presented the French PLR system. What was very heartening was that between 2003 – 2016 Sofia had distributed between authors and publishers €150 million and has a stable income in the region of €16 million per annum for PLR. They also operate a pension scheme benefitting authors.
More about the PLR International Steering Committee
Jim Parker then gave an update on international developments since 2015 and introduced the work of the PLR International Steering Committee.
Masterclasses on lobbying and how to achieve success
This was followed by two masterclasses in lobbying, how it is done and what can be achieved with thought and focus. We heard from Anne Salomaa, Executive Director of Finnish collecting society Sanasto, who work for the benefit of authors. They undertook an extremely successful campaign to improve funding for the Finnish PLR scheme. They explained their strategy, who they got involved, how they mobilised their authors and how they worked their politicians in an efficient and effective way and used hard evidence to convince them that a substantial increase in funding was long overdue. Tying that in with the 100 years of independence for Finland was a good and positive tactic! As a result, their funding has significantly increased, as has their membership, now that PLR has received so much publicity with more authors learning about it.
IAF Steering Committee Member Nicola Solomon, Chief Executive of the Society of Authors, gave the next masterclass in how the UK finally achieved a change in legislation to get remote e-lending included under the UK PLR scheme. She described the journey the UK went through, with discussions and campaigns aimed at publishers, politicians and general awareness raising, and how this grew into positive round–table discussions with all stakeholders which ultimately led to an agreement to extend remote e-lending into UK law. Importantly, she stressed the need to keep lobbying, reiterating your message again and again. And Nicola also emphasised the need to make sure all stakeholders were round the table. It was only when all the stakeholders that sat round the table had agreed the way forward and were collectively lobbying together that it became apparent that not all members of the library community had been involved, and were divided over the lobbying position. So the moral to that story is: test the stakeholder membership to make sure everyone who needs to be involved is included.
Masterclasses and experiences of new PLR systems
Poland
The next masterclass featured new schemes, with updates from Poland (where gambling taxes feature as a contributor to the PLR funding pot!) with income guaranteed for the next ten years – thanks to IAF Member Barbara Jóźwiak, Chief Executive of Copyright Polska, who will shortly be paying out their second year of PLR payments.
Greece
George Zannos, General Manager of OSDEL in Greece, gave an update and lessons learned from their recent campaign to get PLR into Greek law. Although this is moving forward (a good thing!), the system isn't as comprehensive as might have been hoped, and George was very candid in what he felt could have been done differently. At the present time there is a consultation being undertaken to determine the structure of the system, including which libraries will be included, the method of calculation, who will be responsible for payment, who will collect and distribute and who will be entitled to receive the remuneration. We've encouraged George to use the new Charter for PLR Schemes, which was launched at the conference and can be found here.
Hong Kong
Finally Derek Lee, Convenor of the Hong Kong PLR Alliance, took us through the journey they have undertaken including a survey that proved that 40% of respondents had stopped buying books because the public library services in Hong Kong are too convenient! We were delighted when he announced that there is now formal consent from the government to work on a PLR scheme in Hong Kong, which will be the first in that region. We look forward to hearing how this progresses.
Malawi
Jim Parker then gave an update on the progress being made in Malawi on implementing a PLR scheme there. It's the first scheme to be implemented in Africa, and legislation is now in place in for PLR. The next step is to secure government funding and to work out details of the new PLR scheme with help from PLR International.
Key elements of a successful PLR System
Rounding up the first day, the final session looked at identifying the key elements of a successful PLR system. Panellists Trond Andreassen, Secretary of International Affairs, NFF, Maureen Duffy, author and PLR campaigner and Arjen Polman, Director, Stichting Leenrecht gave their thoughts on the key elements. These included:
• Mobilising your authors
• Don't alienate the public
• Go to the top (politicians!)
• Come up with a PLR scheme that you can put to government
• Be practical (one size doesn't fit all)
• Create alliances to promote PLR
• Don't get complacent (PR and lobbying are never-ending jobs)
The PLR International Steering Committee also launched a PLR Best Practice Charter at this conference and had identified basic elements as:
• Including public libraries in the calculation of payment to authors for loans
• Schemes must be funded by governments, not libraries
• Printed books should form the basis of any PLR system
• Rightsholders, as a minimum, must include authors
• Best practice may include payment based on stock count, book purchases etc
• PLR schemes should be adequately funded; Jim Parker has a suggested formula, so any IAF members who want to test their PLR rate should contact him!
• PLR should support linguistic diversity
The 2017 PLRi conference was hosted by SOFIA in Paris
PLR updates from other countries
The following day saw updates given regarding PLR developments elsewhere.
Canada
Peter Schneider, Executive Secretary of the Canadian PLR Commission, gave an update on their system, including the fact that this year they made payments for the first time for e-lending. The registration process for e-books requires an ISBN number, and it will be interesting to follow regarding how this works for the self-publishing community. Peter noted that additional budget has been found for PLR in Canada, and by 2020 it will stand at €10 million per year, and there will be an increase in the sampling protocol. They've also made first payments for audiobooks. He told us that the age of the book is important in Canada, as they have a life-cycle of 25 years and the book is retired after then to promote 'generational equity', and the weighting of the amount of PLR available for an older book decreases with age. But, despite some very interesting advancements in approach which is done outside of copyright law in Canada, they still send payments and cheques by post and do not have the facility for authors to self-register their ISBNs. They are on Peter's wishlist to report back on in two years time!
Israel
Iris Eliya Cohen, an award-winning author from Israel gave an update on the chaotic state of the Israeli PLR system (which is not underpinned by legislation) which does not exhibit sufficient transparency (the government goes out to tender to companies to distribute the €600k for payments in Israel), sampling (only 20 libraries out of 680, and they have full digital data available for loans) or government commitment to PLR (the minister suggests she is doing the writers a favour when considering any changes). A big concern is that the music sector gets much of the distribution and the authors are not properly organised. This may be something the IAF can assist with, and we will be in touch. Iris was very interested in the lobbying masterclasses and how they might translate into an experience for the authors of Israel.
Turkey
Ioannis Kikkis, Resident Twinning Adviser at the Directorate General of Copyright in Ankara, gave an informational update on what's being discussed in Turkey regarding PLR. Though it is in its infancy stage, PLR is being considered and discussed (with all the usual concerns regarding fair funding, who will pay, recipients and process management, etc) and has been included in the new copyright bill expected to go to parliament for approval in October. It will be interesting to hear back at the next Conference as to how much progress has been made.
Sector-specific panel featuring visual artists
For the first time at a PLR International Conference, a specific sector of the authorial community were given a platform to have their say, and so this has started with the visual artists. Carola Streul, Secretary General of European Visual Artists (EVA) set the scene by noting that, with all the lobbying being undertaken regarding PLR schemes, very few visual artists had been included, and this was something she would like to see changed. She noted 'we are fighters' and cited the fantastic work that has been done regarding the Artist's Resale Right at all levels and the success that has been achieved. IAF member Vincent van den Eijnde, Chief Executive of Pictoright in the Netherlands, gave an overview of how the visual artists' share of the funding of Dutch PLR is worked out and which sectors of the visual artists' community benefits most (the largest share is for illustrators of children's books). Marie-Anne Ferry-Fall, Director, Société des Auteurs dans les Arts Graphiques et Plastiques (ADAGP), made the case for the visual artists being disadvantaged by some of the current systems in place for visual artists. Anke Schierholz, Head of Legal Department at VG Bild-Kunst, noted the disparities in systems that make it unclear as to what type of illustration may be entitled to payment, looking at the issue of payment internationally, which may not be dealt with in certain PLR systems, and generally noting that for visual artists it is a much more complex situation than for text and that the share for the visual artist in schemes needs to be raised.
Kevin Fitzgerald from WIPO summing up the Conference
The Conference was neatly summed up by our special guest from The World Intellectual Property Organization (WIPO), Kevin Fitzgerald (pictured, right).
Image copyright: Emmanuel Berrod
He stated: "You, and other authors around the world, are at the frontier of knowledge and creativity. It is your sharing and explaining of knowledge which educates our young people, and your creativity which entertains us and records our cultural diversity.
"Having been a writer myself, in a very modest way, I know how much time it takes to create a written work. And even in well structured markets, I know how very little this work is paid. In less well structured markets I can see from the number of publications per capita that creators find it very difficult to devote time to their creativity, as they have to earn money to feed their families in other ways. The world is poorer in so many ways for this missed creativity."
Giving a global economic context, he noted around the world the average contribution of the creative industries to GDP is 5.1%, and the average contribution of the creative industries to employment is 5.3%. However, there were massive variations to this in some countries, such as in the USA for example, where the creative industries are nearly 12% of GDP, and in the Philippines, where they account for nearly 11% of employment.
Kevin noted that there was consensus at the Conference that the reliable and regular payments from PLR systems are both morale boosting for authors and very helpful financially as one of the income streams an author can rely on. There is also a positive impact for cultural diversity, as it encourages and supports writers in minority languages.
He felt the Conference supported and applauded the flexibility of PLR, as it can be adapted to suit the circumstances of each country. And it can be adapted to new uses of authors' works in libraries, for example the new UK and Canadian systems for including e-book loans.
And PLR supports the library system; he noted there are some authors whose works sell less but are borrowed more in libraries. Clearly these books have a value because they are heavily borrowed. And PLR is the system of remuneration for such authors. Kevin suggested possibly a study might be useful to analyse this situation in more detail, as the evidence might assist when lobbying governments for improved funding as well as potentially bringing greater support from the library community, who rightly remain concerned about the potentially negative effect of PLR on library budgets.
Kevin also noted the simple way in which PLR works well across borders, enabling authors to benefit from the loans of their books in overseas libraries; as well as the simplicity and transparency of the system. This is always important to give all stakeholders confidence in the system.
Despite these many advantages, PLR is reasonably well established in Europe, but other regions have relatively few PLR systems.
Constructive reflections
Kevin finished his summing up with some constructive reflections on how we might improve the reach of PLR.
He told the Conference: "The principal activity for you to continue with and expand further is engagement with policy makers. By policy makers I mean Ministers, Members of Parliament and their advisers. Policy makers do not respond to emotion. They respond to hard evidence. And politicians, in particular, look at economic evidence because they realise that most of the time, citizens vote for those most likely to deliver economic prosperity.
"The economic value chain for publishing should be explained to policy makers. It has to be explained in detail that authors need an income to produce books from year to year. It especially has to be explained that income typically comes from multiple sources. Advances, royalty on sale, reproduction rights, and public lending right. Even together these streams of income can often remain modest, but it's no coincidence that countries which have these streams of income in place have more books published than those that do not.
"So I would suggest you undertake as many lobbying events in small or large groups as you can manage, to explain the economic value chain. And because officials, MPs and ministers are constantly changing, this needs to be an ongoing process."
He noted that the International Authors Forum, WIPO and others work hard in looking at various ways to improve market infrastructure to encourage and remunerate creativity, and noted how much work is done behind the scenes.
Kevin ended his summing up as follows: "I have seen Barbara, Jim, Maureen and countless others working very hard and imaginatively on your behalf. They are to be congratulated. But there is so much more work to be done, to maintain the successes you've had, and to spread that success into new territories.
"PLR is one of the important economic tools at our disposal for the creation and dissemination of knowledge and, as the Secretary General of the United Nations said, 'knowledge is in the end what will determine the future of our international community.'"
A positive note to end the Conference on and thanks to everyone who participated.
Resources available
Want to know more about how Public Lending Right works, or share information about it with someone else?See our PLR introductory guides available in English, French and Spanish.
The PLR International Steering Committee have put together a charter of best practice for PLR. This is available to read in English, French or Spanish.