Dr. Desmond Dudwa Phiri, locally known as DD Phiri was honoured on 26th February, 2017 by the Baptist Church in Malawi as the most influential player in the development of the country at a colourful ceremony near Independence Arch, Chichiri in Blantyre.
Phiri, 82, who is a reputed historian, economist and an author of more than 20 books was given the award on a rainy afternoon witnessed by his family members, friends, academicians, religious leaders and a cross section of authors.
Presenting the award on behalf of the Church, resident Pastor Vincent Chirwa said the award to Dr. Desmond Dudwa Phiri was overdue, looking at what the awardee has done for the country.
"He is a man who needs no introduction to the people of Malawi. All ages of society know Dr. Phiri. He has been an inspiration to all, an answer to all the puzzle the country is undergoing. His economical and historical knowledge of Malawi and the world as a whole has assisted many in their academic endeavours and the country has known where it is coming from because of this great man. Through his literary columns in the daily newspapers many have benefitted to make plans for their lives."
Speaking earlier, Mike Sambalikagwa Mvona, President of the Malawi Writers Union said the country will never produce a man of such caliber as Desmond Dudwa Phiri.
"Desmond Dudwa Phiri is everything. He is an author of great profile, a writer whose knowledge and credibility stands out among all great authors in the country. I therefore urge government to consider naming a street after him right when he is alive," he said, amid cheers from the sizeable crowd.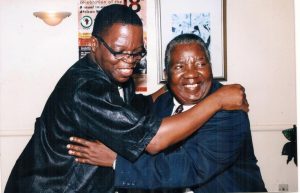 Dr. Desmond Dudwa Phiri when he was congratulated by the then Minister of Culture during the presentation of the PAWA award at Mount Hotel in Blantyre, Malawi. Image © Bonny Sauti.
This is the fifth award for Desmond Dudwa Phiri in the space of six years. In 2009 his essays from his newspaper columns were collected into a book by the Society of Malawi, a grouping of academicians and historians was launched at a special function. In 2010, Phiri again came into the limelight when the Pan African Writers Association (PAWA) based in Accra, Ghana awarded him with a certificate, a stool and a chair alongside Africa's greats; Chinua Achebe and Ngungi wa Thiongo. This was followed by an award by the Malawi Writers Union in 2014 when the Union added another award including a 100, 000 Malawi Kwacha cheque.
The outstanding books DD Phiri has authored include: Let Us Fight for Africa, an Uprising by John Chilembwe in 1915, The King's Bride, Clements Kadalie, Diniwe in Dreamland, What Achievers Say and History of Malawi.