The International Authors Forum (IAF) has undertaken research into the situation of authors around the world, their work and whether they can make a living from their work. Ahead of the release of this research later in the year, IAF Steering Committee member Katie Webb (FUISS, Italy) interviewed Faye Cura, a creator who contributed to it.
Gantala Press is a feminist literary collective based in Metro Manila, the Philippines. Since its formation in 2015, the press has produced books, anthologies, comics, cookbooks, and zines that centre on women's issues and narratives. Five years since its founding, Gantala Press works to document the current political situation in the Philippines, and has been involved in political issues; challenging a situation whereby women are often overlooked or ignored in the wider discussion. Faye Cura runs the collective and responded to calls for evidence into the current nature of authors' earnings. Their latest publication is a collection of writings by Filipinas.
Katie: How did Gantala Press come to be?
Faye: Initially, we formed our group in response to the lack of women's presses in the Philippines or even in Southeast/Asia, and to the under-representation of women in literary institutions and institutional projects such as conferences, lectures, panel discussions, awards, and anthologies. Now, five years into our work, we do our best in helping document the current political situation in the Philippines. To paint a picture of that situation: activists, including women leaders, are being jailed or killed. Women are always the butt of the president's misogynist jokes. The ruling class, including women politicians, judges, or business owners, exercise their power with impunity and continue oppressing the people, often at the expense of women and the poor.
We started the group in 2015. In 2016, we held writing and art workshops to raise money for printing our first anthology of women's writings. On Women's Month 2017, we launched that anthology. The Marawi Siege, a war between the government and so-called ISIS-backed terrorists, broke in May 2017. One of the contributors to our first anthology is from Marawi. We launched an information and fundraising campaign to help the internally displaced persons from the Siege. Since then, we have been involved in political issues, especially after realizing that women are often overlooked or ignored when dealing with or trying to make sense of social upheavals such as war. We met the Amihan National Federation of Peasant Women in an international feminist conference the same year, and have since volunteered with that group. Two of our books were co-published with Amihan.
K: And what are the main activities of the organisation?
F: We produce and publish zines and books by women, especially women from marginalized sectors. We organize fundraising events such as bookselling or discussions with peasant and worker groups. We facilitate writing and zine-making workshops and speak in various forms on women's issues, feminist publishing, and others. We host an annual all-women small press fair, the first of its kind in the country.
We also collaborate with art, small press, and feminist organizations in the Philippines and abroad on projects such as exhibitions, publications, and network building. Our most recent works are a collection of writings by Filipinas in translation to be published by UK's Tilted Axis Press and a curatorial project with Bar de Force Press in Vietnam.
We volunteer with the Rural Women Advocates and Amihan National Federation of Peasant Women, supporting their advocacy work.
K: Is there a business model to support your work/the work of your members and does it work?
We use our earnings from our previous books to print our next books. So far, it works. We recently opened an online store for the digital editions of our publications, especially those that are already out of print or zines that anyone can print at home. We hope to reach more people that way especially our readers abroad.
K: Thinking more broadly, what is the place of writers in the Philippines?
F: Most of the professional writers or authors in the country work in the academe. Writers are only able to earn a decent living if they serve the government, or private corporations (e.g. in advertising), or mass media. As in other countries, state and private institutions maintain the privileged position of these Writers through awards and other forms of validation. But we in the press believe that anyone can write or share her story. For us, there should be no distinction whatsoever between a professional writer and one who simply writes.
K: And would you say culture and cultural activities are valued in your country?
F: They are; there is a National Commission for Culture and the Arts. There is a Cultural Center of the Philippines where plays, orchestras, ballets are performed, and the works of established artists are exhibited. But because Philippine society is so class-based, there is a distinction between "high culture" and the "fine arts" and popular culture. The government or businesses capitalize on high culture. When they promote local or popular culture, they usually do so with a hint of nativism. The people's "culture" is still their consumption of mass media – radio, TV, and the internet.
K: From your perspective, why is it important to protect the writers you represent? And what are the main challenges to your work as an organisation?
F: We represent non-professional writers or authors, like women peasants, union workers among other groups. They are significant because they are the people, the powerless, from whom the stories that matter are drawn. They and their work should be protected because the government's impunity is literally erasing their existence.
Our main challenge is that we are self-funded, with no formal business structure to ensure our sustainability. That we can only afford to commit our time and effort on a voluntary basis.
K: And in terms of creativity, what place does this take in your members' life? Do they do it to make money or for other reasons?
F: Mainly, for our collective, we use our creativity to produce books which we sell to support our various causes – a significant part of our sales always go back to the community whose stories we are telling. We use our writing skills in drafting political statements as well. A lot of times also, we do creative work – like drawing, embroidery, or craftmaking – as therapy.
K: How has the internet helped or hindered you and your members, and the work of the organisation?
F: Because we don't have an office or space of our own, our members communicate with one another and with allied groups mostly on the internet. We do all our marketing and a lot of our bookselling on social media. We maintain a website as well, where we put helpful references on feminism and publishing.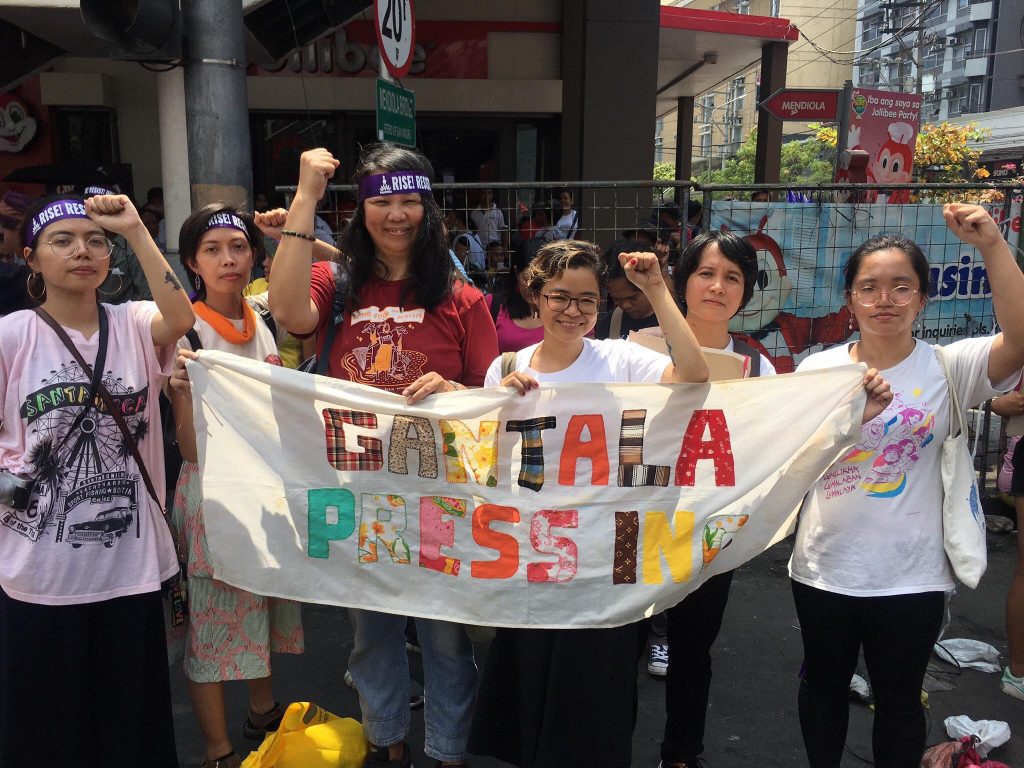 Faye, pictured third from the right, with other members of Gantala Press
K: So what is the importance of a local audience and a global audience to your members?
F: A local audience is really our market. For us, a local audience are not just consumers or buyers of our books; they are also the public who need to be aware of what's happening in the country politically and socially.
A global audience to us would mean an expansion of our market. Unfortunately sometimes, as a form of colonial mentality, Filipinos do not see the value of something unless it is validated in other countries.
K: What do you think is necessary for the work of your organisation, and the work it promotes, to thrive?
F: A financial infrastructure that could pay the members who work for the collective, as well as a creative space which we can use for activities that could generate income while advancing our issues.
K: And finally, what does copyright mean for you and your members?
F: It can protect our work, and it could probably help our authors look at their work as a possible source of income.
Images © Gantala Press