Authors around the world play an essential role in ensuring the prosperity of their societies. This makes it imperative that they have a conducive environment in which to work, are valued for their diverse creations, and retain the right to make a decent living from their work, supported by a robust copyright framework. Yet, numerous studies and surveys from developed countries across the world have found that the earnings of authors are in significant decline, despite international growth in the creative industries that make use of their works. There is, therefore, an urgent need for a better understanding of the issues authors worldwide currently face when it comes to earning a creative living. To this end, the International Authors Forum (IAF) has drawn together a report incorporating the findings of research into the current working conditions for authors.
This report draws on income studies from around the world, including research conducted in France, Australia, Canada, New Zealand, Finland, the United Kingdom, the US and more. In addition to these studies it also draws on testimonials from authors and their representatives in Ghana, the Philippines and the Solomon Islands.
In many of these countries, authors have seen an overall decline in their earnings in recent years. In the UK, authors on average saw a 42% decline in earnings from 2005 to 2017, while similarly the average author in the US saw their earnings decline by 42% from 2009. In some cases, the average reported decline of earnings was sudden; in Canada authors saw a 27% decline in earnings between 2014 and 2017 alone.
The report addresses the varying reasons for declining authors' incomes from study to study. Often it was found to be a result of a profits being disproportionately passed on to authors, as in the US where the growing dominance of Amazon had put pressure on publishers. The impact of digitisation was varied; for some it squeezed the market and increased the demand to work for free, while for others it was a source of opportunity to reach new audiences. In some countries, globalisation has had an impact on the ability of authors to create in their own language where their country takes in culture from around the world but creates few opportunities for authors to establish and share their work in return.
Ultimately it is hoped that opportunities can be taken to reverse the decline in authors incomes and better remuneration rights can be established that ensure authors earnings reflect the way their work is enjoyed. Potential measures for this include rights such as the Public Lending Right (PLR), Artist's Resale Right (ARR), also known as droit de suite, and an Unwaiveable Remuneration Right for online uses of work. Understanding the issue of authors earnings will be an ongoing challenge, in many countries there are no in-depth studies on authors' earnings, and far more can be done to understand the international situation of the author. As the COVID-19 pandemic has an ongoing effect around the world there will be even more challenges to contend with. For now, we hope that this will help to illustrate the need for action to ensure authors in every country can sustainably create and contribute to diverse cultures around the world.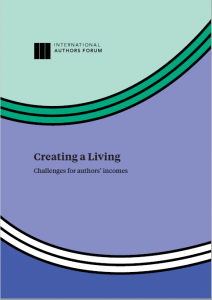 Read the full report here. Also available in French and Spanish.